Rail News Home Federal Legislation & Regulation
9/17/2018
Rail News: Federal Legislation & Regulation
Arctic Gateway reports fatal derailment on Hudson Bay Railway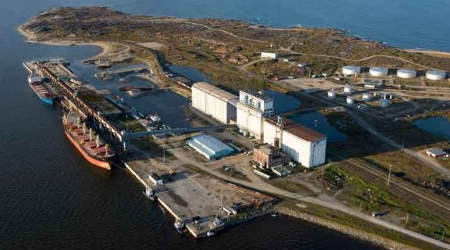 Arctic Gateway Group reported yesterday that a fatal derailment occurred Sept. 15 on the Hudson Bay Railway near Ponton, Manitoba.
The derailment resulted in the death of an employee on the locomotive. A second employee sustained "serious injuries" and was airlifted to a nearby hospital, Arctic Gateway officials said in a press release.
The train that derailed had three locomotives and several dozen rail cars, some of which were carrying liquefied petroleum. None of the cars were "compromised," said company officials.
"The Arctic Gateway Group is monitoring this situation very closely, and we have been advised that at this time there does not appear to be any significant environmental danger to nearby areas resulting from the derailment," they said.
The incident happened just weeks after OmniTRAX Inc. sold the rail line and related facilities to Arctic Gateway and a consortium of First Nations and communities in association with Missinippi Rail LP. The Arctic Gateway Group consists of Fairfax Financial Holdings Ltd., and AGT Food and Ingredients Inc.
The acquisition will allow for the repair and restoration of the rail line — the only land link to Churchill — which has been shut down between Gillam and the port for the past 15 months due to flooding damage. Late last week, the Canadian government announced it would provide CA$117 million to Arctic Gateway for the cost to repair and restore the rail line's service to the port.
Provided through the Western Diversification Program, the funding indicates the government's support for the acquisition of the railroad and related facilities, government officials said in a press release.
"The line is expected to grow into a key transportation and export hub," government officials said in the press release. "The Arctic Gateway Group has brought forward a viable business plan with a view to expand Canada's reach to international markets."
Contact Progressive Railroading editorial staff.
More News from 9/17/2018