Rail News Home Federal Legislation & Regulation
12/7/2018
Rail News: Federal Legislation & Regulation
BUILD grants on way for rail work in five states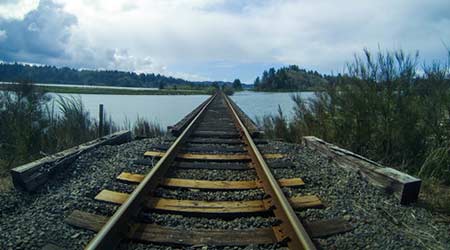 Politicians, government agencies and organizations made dozens of announcements yesterday about 2018 Better Utilizing Investments to Leverage Development (BUILD) program grants that will be awarded by the U.S. Department of Transportation (USDOT) for various projects, including several that involve freight and passenger rail.
The USDOT created the BUILD program earlier this year to replace the Transportation Investment Generating Economic Recovery, or TIGER, grant program that was introduced in 2009. In April, the department published a notice of funding opportunity for $1.5 billion in BUILD discretionary grants.
In the East, U.S. Sen. Patrick Leahy (D-Vt.) announced the Vermont Agency of Transportation will receive a $20 million BUILD grant to help fund the rehabilitation or replacement of 31 bridges along 53 miles of the Vermont Railway's system. The work will be performed on the southern section of the state-owned rail line between Rutland and Bennington, and continuing on to Hoosick, New York.
The federal funds address a top priority in the 2015 Vermont State Rail Plan — increasing the capacity of rail bridges to carry more freight, Leahy said in a press release. The work funded through the grant will increase the bridges' weight ratings to support 286,000-pound rail cars. Most of the rail lines in Vermont can accommodate only 263,000-pound cars, he said.
"Because the rail line cannot currently accept heavier traffic, some shippers opt to use costlier, inefficient freight options that increase truck traffic on Vermont roads," said Leahy.
In addition, U.S. Sens. Pat Toomey (R-Pa.) and Bob Casey (D-Pa.) announced the Southeastern Pennsylvania Transportation Authority (SEPTA) will receive a $15 million BUILD grant to help expand Philadelphia's 30th Street Station. Under a first phase of work to be completed by 2020, SEPTA plans to install a new elevator and escalators, create a new head house at a stairway and widen platforms.
In the West, the Oregon International Port of Coos Bay announced it would obtain a $20 million BUILD grant to help fund the rehabilitation of 15 bridge structures along the Coos Bay Rail Line.
The port assumed operation of the line and formed Coos Bay Rail Line Nov. 1 to streamline rail services and increase overall investments in infrastructure, port officials said in a press release.
The bridge rehabilitation project will cost $25 million, with the port providing $5 million in matching funds. Repairs and improvements will be made to the Coos Bay, Siuslaw River and Umpqua swing-span bridges, Vaughn viaduct, Coalbank Slough bridge and 10 additional bridges in Lane County.
"Ensuring rail connectivity remains a transportation option for the region is critical to maintaining the existing businesses utilizing the [Coos Bay] line, as well as cultivating an environment which can foster future economic development," port officials said.
Also in Oregon, U.S. Sens. Jeff Merkley (D-Ore.) and Ron Wyden (D-Ore.), and U.S. Rep. Peter DeFazio (D-Ore.) announced the Port of Morrow won a $19.4 million BUILD grant to help improve rail infrastructure.
The port plans to extend its existing rail network from a Union Pacific Railroad mainline to reach four marine terminals on the Columbia River. The work will foster the transloading of commodities directly between barge ships and rail cars to create cost-effective shipping options for new and existing industries at the port, the congressmen said in a press release.
In the Midwest, U.S. Sen. Roy Blunt (R-Mo.) and U.S. Rep. Jason Smith (R-Mo.) announced the Southeast Missouri Regional Port Authority (Semo) won a $19.8 million BUILD to finish a loop track terminal.
The project will accommodate more efficient freight transfers between unit trains and river barges. Governed by the authority, the Semo Port Railroad provides local switching service at the port and interchanges with BNSF Railway Co. and UP.
"The Semo Port plays a critical role in in our state's economy, especially when it comes to moving our ag products to market," said Blunt in a press release. "This project will help ensure the port authority is able to continue building upon the steady growth they've achieved over the years."
In addition, U.S. Reps. Darin LaHood (R-Ill.) and Rodney Davis (R-Ill.) announced the city of Springfield will obtain a $22 million BUILD grant for rail improvements. The project includes two new bridges, trackwork, and grading and drainage improvements.
"With this award, the city will take a giant step forward in efforts to more effectively and efficiently travel by rail through our state's capital, improve the flow of traffic and provide an opportunity to fully develop Springfield's medical district," said LaHood in a press release.
Contact Progressive Railroading editorial staff.
More News from 12/7/2018