Rail News Home Federal Legislation & Regulation
12/27/2018
Rail News: Federal Legislation & Regulation
FRA allows Denver RTD to proceed with corrective plan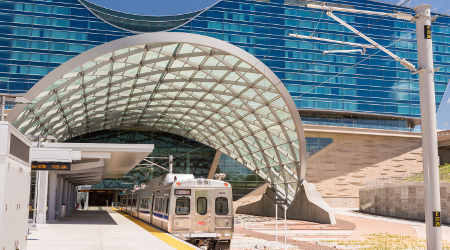 The Federal Railroad Administration (FRA) determined the Regional Transportation District of Denver (RTD) recently filed corrective action plan to address issues related to its A and G light-rail lines provides a "viable path forward," RTD officials announced last week.
RTD Chief Executive Officer and General Manager Dave Genova met with FRA officials to discuss the transit agency's plan, which was submitted Dec. 14. As a result of the meeting, FRA officials indicated they were "impressed" with the commitment of RTD, its board and private partner Denver Transit Partners (DTP) to address regulators' concerns, RTD officials said in a "Commuter Rail Update."
The FRA asked RTD and DTP to provide additional information, and they "will do so shortly," according to the update.
"RTD and DTP are committed to meeting the requirements of regulatory agencies," agency officials said in the update. "At this time we do not have an opening date for the G Line, but we remain focused on reaching the requirements so that regulators will approve quiet zones on the University of Colorado A Line and the G Line and FRA will allow revenue service on the G Line."
Now that the action plan has been submitted and reviewed, RTD officials are hopeful that federal regulators will act on various pending issues. For example, on Dec. 21 the FRA approved the removal of grade crossing attendants from the three crossings on the A Line and the one crossing on the B Line, agency officials said.
"We are hopeful the next action will be the approval of the constant warning time waiver for the Denver grade crossings on the University of Colorado A Line," they said in the update report. "While the FRA letter mentions up to a year, we are striving to make progress as quickly as we can and we believe much will be addressed in a shorter timeframe."
Regulatory issues remain before revenue service can begin on the G Line, they said. Two agencies — the FRA and the Colorado Public Utilities Commission — have yet to approve those matters.
Contact Progressive Railroading editorial staff.
More News from 12/27/2018