Rail News Home Federal Legislation & Regulation
12/26/2018
Rail News: Federal Legislation & Regulation
FRA provides grants for 11 PTC projects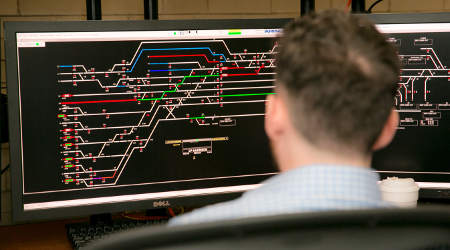 The Federal Railroad Administration (FRA) announced late last week it awarded $46.3 million in grants for 11 positive train control (PTC) projects.
The funding marks the second round of grants under the fiscal-year 2018 Consolidated Appropriations Act and the Consolidated Rail Infrastructure and Safety Improvements (CRISI) Program, which was allocated $250 million for PTC implementation. The CRISI Program was authorized by the Fixing America's Surface Transportation Act that provides funding to improve the safety, efficiency and reliability of passenger- and freight-rail systems.
In August, the FRA announced $203.7 million in PTC grants for 28 projects. All the grants in the second round will benefit passenger rail, with about 31 percent — or $14 million — helping rural projects, FRA officials said in a press release.
"These grants not only help railroads continue to make progress implementing positive train control, but they also show that we're steadfast in our commitment to make investments in passenger rail and rural communities," said FRA Administrator Ronald Batory.
The current awards will fund many aspects of PTC implementation, including back office systems; wayside, communications and onboard equipment; personnel training; system testing; and interoperability.
The 11 recipients and their grant awards are:
• Amtrak's Southwest Chief route via BNSF Railway Co. through Colorado and Kansas, up to $9,157,600;
• Massachusetts Bay Transportation Authority, up to $7,548,335;
• New Jersey Transit, up to $6,542,353;
• Capital Metropolitan Transportation Authority, up to $5,957,151;
• Peninsula Corridor Joint Powers Board (Caltrain), up to $3,976,560;
• Southern California Regional Rail Authority (Metrolink), up to $3,150,000;
• Alaska Railroad Corp., up to $2,530,618;
• Rio Metro Regional Transit District (New Mexico Rail Runner), up to $2,496,842;
• MTA Metro-North Railroad, up to $2,300,000;
• Metra, up to $2,058,163; and
• North Carolina Department of Transportation, up to $584,080.
To learn more about railroads' progress with PTC installation, read this article from Progressive Railroading's October issue.
Contact Progressive Railroading editorial staff.
More News from 12/26/2018