Rail News Home Rail Industry Trends
12/20/2017
Rail News: Rail Industry Trends
TransLink mulls late-night SkyTrain service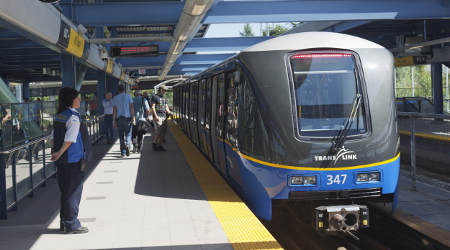 TransLink plans to study the feasibility of providing late-night SkyTrain service on Fridays and Saturdays.
The agency is studying the issue in response to requests from the public, municipal leaders, police and other community stakeholders, TransLink officials said in a press release.
TransLink and the British Columbia Rapid Transit Co. (BCRTC) will explore how other systems worldwide have managed the introduction of late-night service. They'll also examine how extended service can be provided while retaining the necessary maintenance hours.
In addition, TransLink will gather a group of community leaders to consider all implications of extended late-night service.
The agency anticipates presenting early findings for review in mid-2018.
"We have heard there is demand for SkyTrain to run later on weekends and we are taking a fresh look at what would be required to make that happen," said Kevin Desmond, TransLink's chief executive officer. "While it has always been technically possible to operate SkyTrain later at night, it would have a significant impact on maintenance."
BCRTC, which is under contract to operate SkyTrain service, has 1,500 hours available each year to complete required maintenance, capital work and emergency repairs.
TransLink officials have observed an uptick in SkyTrain ridership following the opening of the 6.8-mile Evergreen Extension in December 2016.
Contact Progressive Railroading editorial staff.
More News from 12/20/2017