Rail News Home Federal Legislation & Regulation
10/26/2018
Rail News: Federal Legislation & Regulation
Senate bill would provide railroads, ports equal footing for INFRA grants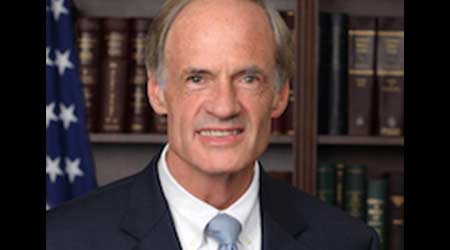 Sen. Tom Carper (D-Del.) earlier this month introduced S. 3587, a bill that proposes to provide rail, intermodal and port projects a better chance of obtaining federal funding through a transportation infrastructure grant program.
The legislation seeks to improve the Nationally Significant Freight and Highway Projects Program, which was created as part of Fixing America's Surface Transportation Act. The bill would remove the cap on Infrastructure for Rebuilding America (INFRA) grants for multimodal freight projects, and enhance the transparency and administration of the INFRA grant program to ensure the best projects receive funding.
Although INFRA grants provide critical investments in freight projects, they are largely limited to highway projects, said Carper in a press release. The bill would remove that limitation and allow railroads and ports to compete for program funding on equal grounds, he added.
"Our economy relies on domestic and international freight making its way through our ports, railways and intermodal hubs, which serve as gateways to the global marketplace for American farmers, manufacturers and consumers," said Carper. "Regrettably, as a country, we haven't been making investments in our national transportation system that we need to. That's why I introduced [this] bill."
S. 3587 was referred to the Senate's Environment and Public Works Committee.
The bill has been endorsed by the Coalition for America's Gateways and Trade Corridors and American Association of Port Authorities (AAPA). Of the $11 billion in freight funding provided in the FAST Act, only $1.13 billion is eligible for multimodal projects, and of that, only $200 million in multimodal eligibility remains available for INFRA grants, AAPA officials said in a statement.
"[We] strongly support Senator Carper's legislative initiative that repeals the multimodal cap on the discretionary grant program created in the FAST Act," said AAPA President and Chief Executive Officer Kurt Nagle.
Contact Progressive Railroading editorial staff.
More News from 10/26/2018