1/21/2019
Rail News: Mechanical
Amtrak issues RFP for Amfleet I replacements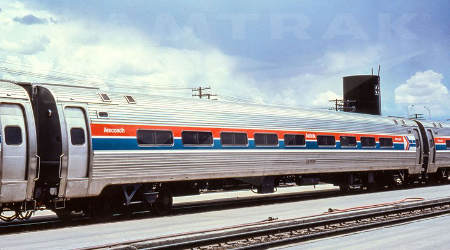 Amtrak late last week released a request for proposals (RFP) for a new fleet of single-level passenger-rail vehicles to replace the Amfleet I cars.
Amfleet I cars are used primarily on the Northeast Corridor (NEC) and adjacent state corridor routes.
"Nearly half of Amtrak's annual ridership is comprised of trips along the [NEC] and adjoining corridors, and this new state-of-the-art equipment will provide customers with an enjoyable and efficient travel experience," said Amtrak Vice President of Corporate Planning Byron Comati in a press release.
The new rail cars and trainsets must include all necessary equipment for positive train control technology and meet recently updated federal Tier I safety standards for equipment operating at speeds up to 125 mph, Amtrak officials said.
The new units will replace Amtrak's fleet of 470 Amfleet I and ex-Metroliner cars. The Amfleet I units are over 40 years old, while Amtrak's fleet of ex-Metroliner equipment entered service 50 years ago this week for predecessor Penn Central Railroad.
The base order includes 75 trainsets or their rail-car equivalents, with options to provide equipment for future service growth along the NEC and other state-supported routes. Although Amfleet I cars recently were refurbished with new seating upholstery and carpeting, the fleet's age and industry-standard lead times for new equipment requires that the replacement effort begin now, Amtrak officials said.
Amtrak's RFP closes Feb. 13.
Contact Progressive Railroading editorial staff.
More News from 1/21/2019