1/30/2019
Rail News: Mechanical
Rail supplier news from Ricardo, APM Terminals, Dover, Seyfarth Shaw, Hanson and AECOM (Jan. 30)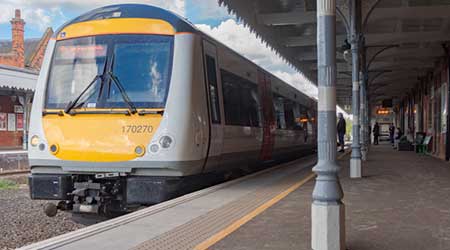 Ricardo won a contract from United Kingdom-based rolling stock owner Porterbrook to provide engineering expertise for the integration of MTU's hybrid powerpack into a converted Turbostar diesel multiple unit (DMU) train. The conversion is for the HybridFLEX project, a first in the UK rail industry, Ricardo officials said in a press release. The project calls for eliminating diesel emissions from trains in built-up areas where there's no electrification of the rail network. The HybridFLEX train can operate with onboard batteries through urban areas and during station stops. When diesel power is required for train propulsion, it can be provided by an engine conforming to the latest European Union emission standards, Ricardo officials said.
APM Terminals announced a new block-train service from its terminal in Lazaro Cardenas, Mexico, is helping avoid congestion and delays commonly associated with other West Coast ports to reach destinations in the United States and Mexico. The terminal, which opened last year, is served by Kansas City Southern de Mexico. Not only is the train service faster, it's more secure than transport by truck, APM Terminals officials said in a press release. The facility provides the shortest distance and lowest intermodal cost to Mexico City, they said. APM Terminals — which provides port and integrated inland network services — also announced it recently improved rail connectivity at terminals in India and Italy.
Dover Corp. announced it has completed a previously announced acquisition of the Belanger Inc. The acquired company will become part of OPW, a business unit within Dover's fluids segment that provides rail-car valves and equipment, loading arms, tank truck equipment and car wash systems. Belanger supplies vehicle wash equipment and systems, an industry it's served for nearly 50 years.
Seyfarth Shaw LLP announced that Juan Reyes III has rejoined the law firm as a partner in the real estate department and public-private partnership practice. He returns to Seyfarth's New York City office after previously serving as acting administrator and chief counsel for the Federal Railroad Administration (FRA). During his nearly two-year FRA tenure, Reyes oversaw the agency's staff of 950 and $3 billion budget. As principal legal adviser to the agency on all U.S. freight- and passenger-rail matters, he managed a legal department of 50 attorneys and provided executive direction to the FRA's general law and safety law divisions.
Jason Frericks has joined Hanson Professional Services Inc.'s Kansas City, Missouri, office. A civil and railroad engineer, he will design railroad facilities for Class Is and private industry clients, and prepare plans for civil, traffic signal and transportation projects, Hanson officials said in a press release. Frericks has more than 15 years of engineering experience, with a focus on transportation. He most recently was a rail and transportation engineer for an engineering, surveying and planning firm in Red Oak, Iowa. Frericks is a member of the American Railway Engineering and Maintenance-of-Way Association AREMA).
AECOM has appointed John Unsworth the North American rail structures lead for its Americas design and consulting services group. He served Canadian Pacific for the past 37 years, most recently as chief engineer of bridges. Unsworth has extensive experience in the design, fabrication, construction and maintenance of steel, concrete and timber rail bridges, including new and rehabilitated bridges, AECOM officials said in a press release. He long has been a member of numerous professional industry associations, including the Association of American Railroads, American Society of Civil Engineers and AREMA, where he served as president for 2010-11.
Contact Progressive Railroading editorial staff.
More News from 1/30/2019