12/26/2018
Rail News: Mechanical
Amtrak orders 75 new locomotives from Siemens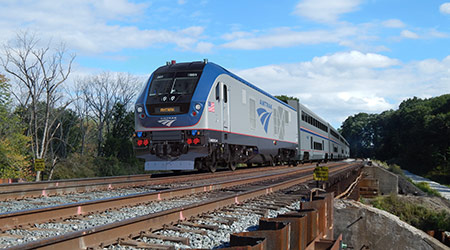 Amtrak has awarded an $850 million contract to Siemens Mobility for 75 diesel locomotives as part of the railroad's plan to replace its aging national network fleet.
The initial 75 Charger units will be used primarily on Amtrak's long-distance services, with options to purchase more units for use on some state-supported routes and to support future growth, Amtrak officials said in a press release.
"These new locomotives will offer increased reliability, more hauling power, improved safety features and lower emissions," said Amtrak President and Chief Executive Officer Richard Anderson.
The new units will replace primarily Amtrak's aging P40 and P42 locomotives, some of which have been in service for more than 25 years. The units will be manufactured at Siemens plant in Sacramento, California.
Safety system features on the locomotives will include crash energy management and positive train control. Capable of reaching speeds of 125 mph, the units will have 16-cylinder Cummins QSK95 diesel engines with modern control systems and alternating current propulsion.
The engines will be equipped with the latest Tier 4 emissions technology, which is designed to reduce nitrogen oxide by more than 89 percent and particulate matter by 95 percent. In addition, the engines will provide an average of 10 percent savings in diesel fuel consumption, Amtrak officials said.
The units will be delivered starting in summer 2021 and will begin entering service in fall 2021. They will power trains used on the following routes: Auto Train, California Zephyr, Capitol Limited, Cardinal, City of New Orleans, Coast Starlight, Crescent, Empire Builder, Lake Shore Limited, Palmetto, Silver Meteor, Silver Star, Southwest Chief, Sunset Limited and Texas Eagle.
All locomotives are expected to be in service by 2024. Maintenance of the units will be supported by a supplemental multiyear technical support spares supply agreement.
Amtrak will pay for the new locomotives with available funds, railroad officials said.
Contact Progressive Railroading editorial staff.
More News from 12/26/2018