12/10/2018
Rail News: Mechanical
Caltrain OKs option for more electric cars, adopts fare policy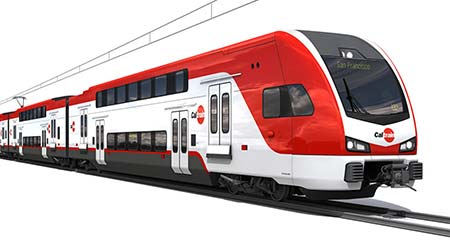 Caltrain's board late last week unanimously approved the purchase of additional electric train cars to help address increasing ridership on the commuter-rail system.
Using funds from the California State Transportation Agency's (CalSTA) Transit and Intercity Rail Capital Program (TIRCP), Caltrain will expand its electric fleet from 16 six-car trainsets to 19 seven-car trainsets. The agency's contract option with Stadler allows for additional electric multiple units (EMUs) to be bought at the original price totaling $174.6 million, provided the purchase is made by 2018's end.
The Caltrain Business Plan projects potential demand of more than 240,000 riders on the system each weekday by 2040, up from the current weekday ridership average of 65,000.
In addition to accommodating future ridership, the cars will help reduce diesel trips on the corridor and enhance seating capacity, Caltrain officials said in a press release.
In April, CalSTA announced a $164.5 million investment from the TIRCP to support Caltrain service improvements, including the additional cars. Caltrain provided $39.1 million in matching funds for the EMUs from the fiscal-year 2021 capital budget.
Meanwhile, the agency's board also adopted a fare policy for the first time in Caltrain's history. The policy lays out the principles and goals for any future fare structure changes.
The fare structure now must achieve a farebox recovery ratio for the operating budget of at least 65 percent. In addition, the policy encourages participation in regional and state fare programs, ensures the fare system is easily understandable and usable, and supports achievement of ridership goals, Caltrain officials said.
Contact Progressive Railroading editorial staff.
More News from 12/10/2018