8/15/2018    
Rail News: Mechanical
Massachusetts Gov. Baker unveils Red Line rail-car mock-up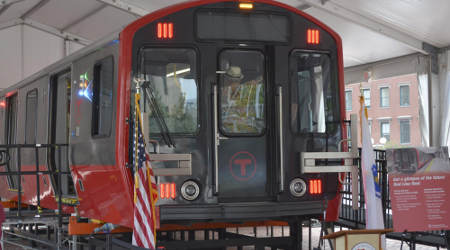 Massachusetts Gov. Charlie Baker yesterday joined China Railway Rolling Stock Corp. (CRRC) leaders to unveil a mock-up of a new Red Line rail car for the Massachusetts Bay Transportation Authority (MBTA).
The mock-up is two-thirds the actual size of the new cars, but it showcases the units' amenities and general aesthetics. The new units will feature wider door openings for easier boarding, minimized gaps between the platform and car door, dedicated accessibility areas, and audio and visual passenger information, according to an MBTA press release.
The cars also have the latest propulsion and braking systems to allow for a three-minute headway between trains, which will reduce wait times.
In March, MBTA staff traveled to Changchun, China, to evaluate the mock-up car.
In April, CRRC MA Corp. — the company's North American subsidiary — completed construction of its rail-car manufacturing plant in Springfield. The plant is equipped with a 2,240-foot test track and staging/storage area to accommodate assembly of all 404 rail cars for the MBTA.
The company is producing 252 Red Line cars to replace MBTA's existing fleet on the line. CRRC also is building 152 new Orange Line vehicles.
Production of the Orange Line rail cars is expected wrap up in December. Assembly of the Red Line units will begin in 2019. Delivery of both fleets will continue through 2022.
"The MBTA is investing nearly $2 billion in the Red Line as part of the Red Line/Orange Line improvement program, which includes procuring these new Red Line vehicles," said Massachusetts Department of Transportation Secretary and Chief Executive Officer Secretary Stephanie Pollack. "The upcoming new fleet for the Red Line, coupled with new and improved track, signals and other core infrastructure upgrades translates to a better, more reliable service for MBTA customers."
The agency has already begun operator training on its new Orange Line cars.
---
Keywords
Browse articles on Massachusetts Bay Transportation Authority MBTA China Railway Rolling Stock Corp. CRRC CRRC MA Corp. Gov. Charlie Baker Stephanie Pollack Boston transit