11/12/2018
Rail News: Mechanical
Metra to buy three used locomotives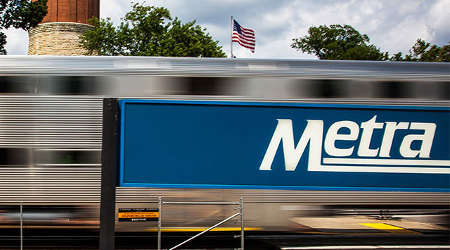 Metra's board has approved the purchase of three used F59PH locomotives from Progress Rail for $2.5 million.
The railroad is supplementing its aging fleet as it continues a longer-term procurement of new or remanufactured locomotives, Metra officials said in a press release.
The three used locomotives were built originally by General Motors Corp.'s Electro-Motive Division in 1988. Progress Rail will test, evaluate and make needed repairs before shipping the units to Metra.
"We believe this purchase represents a great opportunity to further supplement our locomotive fleet and increase our spare ratio," said Metra Chief Executive Officer and Executive Director Jim Derwinski.
The F59PHs feature parts and operating characteristics that are similar to Metra's existing fleet of EMD F40s, some of which are 40 years old. 
In late 2017, Metra issued a request for proposals for new or remanufactured locomotives, but those units aren't expected to be available until at least late 2020. The used F59PHs will be available this year.
In 2015, Metra bought three identical F59PH locomotives from Rail World Locomotive. In February, Metra announced the purchase of 21 F59PHIs from Amtrak.
Meanwhile, Metra's board has approved the railroad's 2019 operating and capital budgets. The $822.2 million operating budget includes no fare increases, as the commuter-rail agency promised earlier this year.
The $185.6 million capital budget will be funded with $173.6 million from the federal government, $5 million from Chicago's Regional Transportation Authority and $7 million in fare revenue. Additional funding is needed to address Metra's capital needs, according to the agency.
Metra will continue to seek funding from the state of Illinois to close the gap, railroad officials said.
Contact Progressive Railroading editorial staff.
More News from 11/12/2018