1/21/2019
Rail News: Mechanical
North Carolina DOT obtains federal, state grants for locomotive upgrades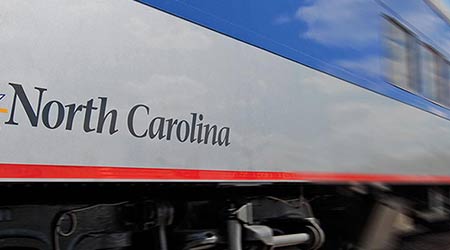 The North Carolina Department of Transportation (NCDOT) late last week announced a recently awarded federal grant that will help its rail division continue to boost safety along the Piedmont Corridor.
 
The Federal Railroad Administration awarded the division a $584,080 grant through the Consolidated Rail Infrastructure and Safety Improvements program to help fund the purchase and installation of positive train control (PTC) hardware on passenger service locomotives.
The division installed PTC devices on its locomotives ahead of the federally mandated Dec. 31, 2018, implementation deadline. The grant will be used to outfit locomotives that will be required for expanding Piedmont passenger-rail service, including an upcoming fourth round trip between Charlotte and Raleigh beginning in the next few years, NCDOT officials said in a press release.
Six Piedmont trains owned by the NCDOT and operated by Amtrak and the rail division now provide daily service to Charlotte, Kannapolis, Salisbury, High Point, Greensboro, Burlington, Durham, Cary and Raleigh.
The division also obtained a state grant that will help reduce locomotive air emissions. A $484,500 diesel emissions reduction grant from the North Carolina Department of Environmental Quality will be used to fund the installation of a blended after-treatment system (BATS) — which is designed to cut air pollution — on one locomotive.
The division expects to equip its entire locomotive fleet with BATS systems within the next two to three years. At that time, the division "will have one of the cleanest locomotive fleets in the nation," NCDOT officials said.
Contact Progressive Railroading editorial staff.
More News from 1/21/2019