12/12/2018
Rail News: Mechanical
Rail supplier news from GE, Pandrol, Michael Baker, Urban Engineers, HNTB and NRC (Dec. 12)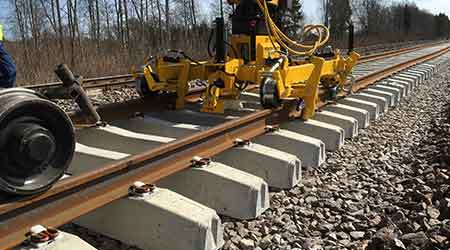 GE Transportation on Dec. 6 marked the 20th anniversary of its Global Performance Optimization Center, which maintains and manages locomotive fleets and maintenance resources worldwide. Centers are located in Erie, Pennsylvania; Fort Worth, Texas; Contagem, Brazil; and Astana, Kazakhstan. The facilities operate 24/7 and are staffed by four to five GE experts per shift. Using information from digital systems, the experts provide conditioned-based maintenance instructions tailored to a specific locomotive, GE officials said in a press release. The centers serve more than 50 customers operating in 20 countries. "We have grown to four centers located around the world using artificial intelligence to process 2.5 million messages a day from more than 17,000 locomotives," said GE Transportation Technology Executive Glenn Shaffer.
Pandrol recently secured a contract from Eesti Raudtee for more than 430,000 FASTCLIP FE fastening systems for trackwork in Estonia. The order follows another contract that Pandrol recently met to supply fastenings for rail refurbishment in the nation. Pandrol obtained the new contract with German infrastructure partner Leonhard Weiss. As part of the project, Leonhard Weiss acquired a Pandrol CD400 Clip Driver, which clips and unclips Pandrol FASTCLIP FE fastening systems and provides hydraulic power to raise low ties. Leonhard Weiss' use of the FASTCLIP FE clip, in combination with the CD400 Clip Driver, saved the contractor 30 percent on installation time compared with conventional methods, Pandrol officials said in a press release.
Engineering firm Michael Baker International has named Thomas Ritz vice president and mountain regional bridge practice lead. Based in Denver, he will be responsible for aligning the bridge practice's technical capabilities and support quality standards for service delivery of core businesses. Ritz most recently was the bridge sector leader and a senior project manager for Stantec, where he mostly focused on a 13.5-mile commuter-rail line design-build project that included the design of the longest bridge in Colorado. Previously a project manager and senior bridge design engineer for Jacobs Engineering, he is a member of the American Railway Engineering and Maintenance-of-Way Association (AREMA).
Urban Engineers has named Peter Fedun deputy practice leader for rail and transit. He has more than 30 years of engineering experience, specializing in the design of light-, heavy- and high-speed rail projects. Fedun has served in increasingly responsible positions while working on major transit projects throughout North America and in Asia. An AREMA member, he began his career as a structural engineer and developed conceptual, preliminary and final structural designs for viaducts, bridges, tunnels and other transit-related facilities.
HNTB Corp. has named Michael Lee senior rail systems manager and west division systems group lead, and Greg May rail program manager and associate vice president. Based in HNTB's Oakland office, Lee has more than 30 years of experience in light-, high-speed and conventional-rail systems. He will work on projects for such HNTB customers as Bay Area Rapid Transit, the California High-Speed Rail Authority, Peninsula Corridor Joint Powers Board and Santa Clara Valley Transportation Authority. Based in Philadelphia, May has 20 years of experience in leading and managing rail and transit design projects and construction assignments. He has worked on engineering projects for Amtrak, the Southeastern Pennsylvania Transportation Authority, Norfolk Southern Railway, CSX and the Delaware River Port Authority.
The National Railroad Construction and Maintenance Association announced the winners of its annual scholarship program, which provides tuition assistance for children or grandchildren of member companies' employees. The 2018 first place winner ($12,000) is Gavin Heller of Marquette University. Sponsored by North Shore Track Services, he previously worked as a track laborer and is in his final year of studying biomedical engineering. The second place winner ($6,000) is Sarah Isdahl of the University of Wisconsin-La Crosse. Sponsored by Loram Maintenance-of-Way Inc., she is a third-year double major currently studying psychology and Spanish. The third place winner ($3,000) is Charlie Hauser of Western Washington University. Sponsored by Modern Railway Systems Inc., he is studying electrical engineering.
Contact Progressive Railroading editorial staff.
More News from 12/12/2018