1/24/2019
Rail News: Mechanical
UP set income record, advanced Unified Plan in Q4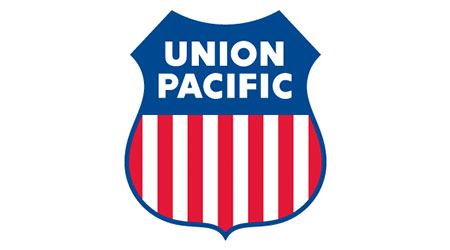 By Jeff Stagl, Managing Editor
Union Pacific Corp. today reported record fourth-quarter net income of $1.6 billion and diluted earnings per share of $2.12, up 29 percent and 39 percent, respectively, compared with adjusted results for fourth-quarter 2017.
Reported results include previously disclosed adjustments reflecting the impact of corporate tax reform. Including those items, fourth-quarter net income totaled $7.3 billion, or $9.25 per diluted share.
UP also reported that, on a year-over-year basis, Q4 operating revenue rose 6 percent to $5.7 billion, freight revenue grew 6 percent to $5.4 billion, operating income climbed 9 percent to $2.2 billion, operating expenses increased 4 percent to $3.5 billion, carloads rose 4 percent to 2.2 million units and the operating ratio improved 1.1 points to 61.6.
Revenue generated by premium business — which includes domestic and international intermodal, and finished vehicles — soared 15 percent to $1.7 billion, with volume up 9 percent to 1.1 million units. International intermodal revenue ballooned 21 percent to $446.7 million while domestic intermodal revenue rose 3 percent to $561.7 million.
Industrial products revenue climbed 10 percent to $1.4 billion and volume increased 6 percent to 431,000 units — driven by strong construction materials and metals business — and agricultural products revenue rose 5 percent to $1.1 billion even though volume dipped 2 percent to 275,000 units.
Energy revenue declined 8 percent to $1.1 billion and volume fell 9 percent to 404,000 units due to a 47 percent plunge in sand business associated with more local sourcing and a 6 percent decrease in coal business.
Overall, the encouraging Q4 results were propelled by strong volume growth, core pricing gains and regaining positive productivity momentum, said UP Chairman, President and Chief Executive Officer Lance Fritz during an earnings conference held this morning.
For the full year, UP's operating revenue grew 7 percent to $22.8 billion, operating income climbed 8 percent to $8.5 billion, net income soared 29 percent to $6 billion, operating expenses rose 7 percent to $14.3 billion, volume increased 4 percent to 8.9 million units and operating ratio ratcheted down 0.1 points to 62.7 compared with 2017 figures.
During the conference, UP senior executives also provided an update on Unified Plan 2020, which the Class I began to implement in October 2018. Designed to eliminate operational inefficiencies, improve asset utilization, boost productivity and enhance service performance, the plan incorporates precision scheduled railroading principles to minimize car classification events and dwell time, employ general purpose trains and balance train movements.
Unified Plan implementation is complete on the east-west Mid-America Corridor and is well underway on the Sunset Route between Los Angeles and Chicago, while the rollout is set to begin next week in the Pacific Northwest and northern California regions, said Executive Vice President of Operations Tom Lischer.
Implementation is ahead of schedule, so the Class I is accelerating plan completion to mid-2019, said Fritz. Network design changes already have had an impact by cycling cars faster, shrinking the workforce, and reducing cars online and terminal dwell times, he said.
Senior execs also announced that 2019 capital expenditures are budgeted at $3.2 billion, which is flat compared with the 2018 budget. Seventy percent of the 2019 budget — $1.9 billion — is allocated for infrastructure replacement spending and positive train control spending will drop by $43 million year over year to $115 million, said Lischer. The Class I won't purchase any new locomotives in 2019, but will modernize units and make targeted freight-car acquisitions, he said.
Looking ahead to year-end 2019, UP expects volume growth in the low single digits, and operating ratio below 61 and at least $500 million in productivity savings, largely driven by Unified Plan 2020 and the G55 + 0 initiative that calls for a 55 operating ratio longer term, said EVP and Chief Financial Officer Rob Knight. The ratio is projected to fall below 60 by next year, he said. In 2018, UP generated net productivity savings of $90 million, less service-related costs.
"We are optimistic that continued economic growth, improving service performance and the strength of our diverse franchise will drive positive volume and revenue growth in 2019," said Fritz.
Contact Progressive Railroading editorial staff.
More News from 1/24/2019