12/13/2018
Rail News: Mechanical
VIA Rail orders 32 trainsets from Siemens Canada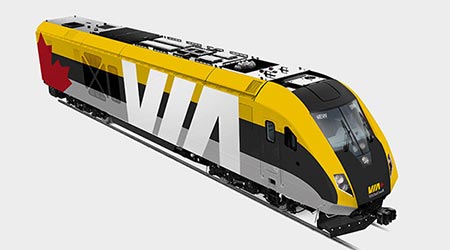 VIA Rail Canada Inc. yesterday announced it awarded a CA$989 million contract to Siemens Canada to build 32 trainsets.
The new trains will replace the railroad's fleet that operates in the Quebec City-Windsor corridor, VIA Rail's busiest route that serves more than 4.5 million passengers annually.
Siemens Canada was selected following "a fair, open, rigorous and transparent bidding process" under the oversight of an independent fairness monitor and the railroad's board, VIA Rail officials said in a press release. On-time delivery, product quality and price were the prime evaluation criteria, they said.
 
VIA Rail currently operates some of the oldest trains in North America — some dating back to the 1950s — and most of the cars in service are nearing the end of their lifespan.
The railroad plans to retire a portion of its fleet starting in 2019. In 2021, Siemens Canada will begin delivering the new trainsets, which are expected to start entering service in 2022.
The new fleet will be equipped with LED lighting, wide seats, quiet zones, bike storage and flexible luggage space. In addition, the trainsets will sport accessibility and enhanced safety features, improved engines that meet the U.S. Environmental Protection Agency's Tier 4 emission standard, and bi-directional operation capability to lower operating costs and increase passenger capacity.
Over their expected 30-year lifespan, the new fleet will be maintained in Canada at the railroad's maintenance centers in Montreal and Toronto. VIA Rail and Siemens Canada also entered into a CA$23.7 million, 15-year technical services and spare parts supply agreement.
"As we are initiating the gradual withdrawal of the current fleet, the timely delivery of the new fleet will allow [us] to maintain the current levels of service in the Quebec-City Windsor corridor, while significantly improving the quality of its passenger experience," said VIA Rail President and Chief Executive Officer Yves Desjardins-Siciliano.
Contact Progressive Railroading editorial staff.
More News from 12/13/2018